11 best hotels in Panglao Island
Our top picks
Lowest price first
Nearest to
Best reviewed
4-star hotels in Panglao Island
---
Great location, probably one of the best (if not the best) beachfront properties in Panglao Island. Fantastic service by the staff, great food, and the rooms were nice too. We'll definitely come back!
---
I enjoyed my stay in Amarela. The services were great and the staff are very friendly and helpful. We felt that we are well taken care of during our 3 nights stay. It is so easy to ask for assistance. Transport to & from airport is provided free. Motorbike rental is arranged and bike is delivered to hotel. Beach towels, snorkels, kayak available at beach. The bea...
Lawrance
, Hong Kong SAR, China
---
Finally i find a place which suit my needs and standards. Rooms are spacious, simple but modern like the best hotels. Nice the living area with sofa and the room separated. Im sure the owner pay a lot of attentions in the construction due i can see that didn't look like to other resorts in the area. The room will impress you with the cleanness and for the quietness i...
---
The hotel is far from the main bars and restaurants (cca 3km), even from the main road. This means you have to walk in the night to the main road and then to ride a taxi/tricycle to the centre of the village. Or to order at the reception a tricycle for 150 PHP. Which 100 Php goes to the driver and 50 Php is the hotel fee.. In the hotel room all the equipment is import...
---
very nice resort on panglao island. near the sea. not many clients, mostly because it was off season and the resort is new. not that easy to get there, unless you use the reorts transportation. the restaurant at the resort is about a 5 minute walk from the rooms.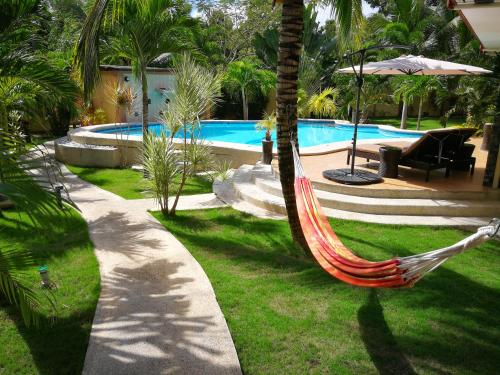 ---
As people who work in the hospitality and accommodation industry, we were blown away with the thought and attention to detail that Marc and Rose have put into their accommodation. Literally a home away from home, with many added bonuses our every need was catered for. Whether you wanted to just laze around in the peaceful garden setting or get out and about and explore...
---
This was a great place to stay for the first night. My wife and I agree that it would've been nice to stay another night but we were island hopping. The staff was very helpful and the breakfast was delicious! I would definitely stay here again
---
From the moment Nelly & I arrived we felt so blessed to have chosen this place which was like our own personal 5 star Hotel with Private Elite Super Clean pool. Thus had Wow factor. Nicely appointed clean Modern Bungalow unit with a reliable bathroom shower and extra free mouthwash toothbrushes razors toothpaste proper body wash and branded shampoo so on. Great inducti...
---
We had such a pleasant stay. The owners are really friendly and welcoming, they make a simple but nice breakfast and you have the opportunity to have dinner (with a nice bottle of wine!). The bungalow + surrounding is great. There is a pool, a nice garden and you can rent scooters. We loved the location: it's quiet but also close to town and other must see sights. We r...
---
5-star hotels in Panglao Island
---
This is the best hotel in Panglao island. Best hotel structure Best room (Family room is huuuuugeeee!!!) Best swimming pool (We enjoy swimming at the pool because it is always warm) Best beach front. The best spot during sunset! Buffet breakfast though is very limited.
---
The hotel is located, in my opinion, in the best beach in Panglao island, the staff is amazing and inspire you to come back, excellent facilities, good cuisine, and also perfect as a wedding resort. Maybe some resorts in Maldives would could hardly compete with this resort. If you are in a romantic trip you have to choose a beach-front villa, trust me you won't regret ...
---
It was a great experience not to mention we got an unexpected upgrade. The view at our Villa and resort is magical. The resort gives ultimate privacy, the only private beach resort in Panglao Island. Pristine white sand, peaceful and quiet. Staff are very friendly and well trained. The Resident Manager Andrew is hands on. Food is good. We even had a bbq by t...
---
My wife and I really enjoyed our stay at this resort. Its not far from Alona, but far enough to be away from the noise. You can either ride a tricicle for 5 mins to Alona (100 Pesos one way) or just rent a motorbike with the front desk (600 Pesos per day). The pool area is great, the food is delicios and reasonably priced, the breakfast buffet is really good with a lar...
---
After arriving at Amorita, I knew that I had made the right choice. The accomodations were top notch by western standards. The rooms were clean and looked just like the pictures on the Amorita web site. The bathroom facilities were new, clean and built to western standards. I really think this place is a bargain considering the incredible level of service offered. Thi...
---
A beautiful resort that makes you wanna stay in for all day . Rooms are just the same as the pictures, the swimming pool is wonderful and the staffs are all very nice. Definitely one of the best resorts in Panglao!
---
We stay in the hotel from 12 July to 17 July. We choose this hotel as per the picture show and indeed, what you see in the picture does not justify how beautiful the hotel is in real. This holiday if for me and my Bf's anniversary and the staff makes it extra special as they gave us a complimentary cake for our Anniversary celebration. This may seems to be a small th...
---
Worst experience ever!!!! Our booking has been redirected to booking.com as an overbooking. We were told by the staff when we've arrived at their front desk. Though they reserved rooms for us at another hotel but didn't inform us before our arrival.
---
In and around Panglao Island
---
More about Panglao Island
A narrow channel separates Panglao from mainland Bohol, marking off one of the finest resort islands in the Filipino archipelago. This is also one of the Philippines' premier diving destinations, with many of the resorts on Panglao Island offering diving packages.

Most visitors base themselves at Alona Beach on the southeast coastline. It's a quiet, up-market resort area with more than a kilometer of white sand. Tourists come here to enjoy the classic beach holiday dominated by water sports during the day and seafood and cocktails in the evening. As Alona Beach is so close to mainland Bohol, it's an easy place to retire after touring the Chocolate Hills of Bohol and the Tarsier Sanctuary.

Nearly everyone goes snorkeling while staying at Panglao. The closest reef for diving is about 100 meters offshore, while serious divers may even charter trips to the Pamilacan Islands or Balicasag. This is also a good place for beginners to get certified, as most of the hotels on Panglao Island offer inexpensive PADI certification courses.

Other on-island attractions include the Bohol Bee Farm, a cliff-top area that operates an organic produce and honey farm. Side trips to Hinagdanan Cave are also popular. Across the channel form Panglao Island is Tagbilaran, capital and transportation hub of Bohol. Pump boats from Tagbilaran connect to Alona Beach, or tourists can hire a tricycle or taxi for a quick overland journey.